The decision to install an entrance door is one where you want to make sure you'll be satisfied with the outcome. For a lot of people, it's hard to decide whether a uPVC or composite entrance door is the right choice for your property. Both doors have their own unique selling points and complement homes in a variety of different ways.
Why choose a uPVC entrance door for your home?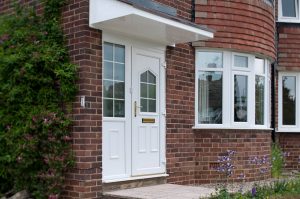 As perhaps the most popular front door choice in the UK, the uPVC entrance door has a glowing reputation. Renowned for superb thermal efficiency and affordability, a uPVC entrance door can be the perfect all-rounder door. Consisting of multiple internal chambers, our uPVC doors are designed to prevent heat from escaping your home. When you don't have to rely so much on artificial methods of heating, you'll find yourself spending less money on energy bills.
uPVC entrance doors from Dream Installations also make use of double glazing to further increase their energy efficiency. When it comes to security, our uPVC entrance door is fitted with multipoint hook locks that effectively protect homeowners from would-be intruders.
One of the best things about uPVC as a material is that it requires little to no maintenance, so you won't need to find time in your life to keep it looking its best. Speaking of looks, Dream Installations can install a uPVC entrance door in a variety of colours or woodgrain foils.
Why choose a composite entrance door for your home?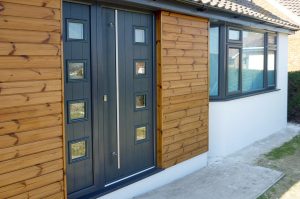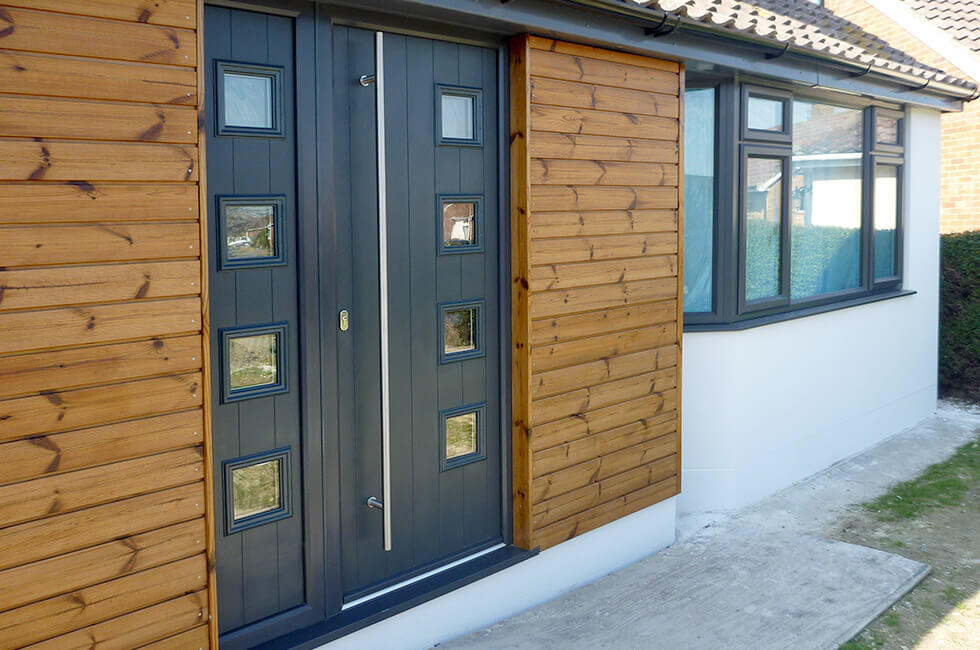 Composite doors differ from uPVC in that they're made up of a combination of timber & uPVC construction materials. They have a focus on durability & strength and are one of the sturdiest entrance door choices available. You can have a composite entrance door with either a 48mm solid timber core or an insulating Polyurethane core.
Composite doors are both multi-layered and dense, making them airtight within the frame, which improves upon the levels of thermal retention and security that can be provided by a uPVC entrance door. A composite entrance door excels at resisting harsh weather elements thanks to its glass-reinforced plastic outer skin. Just like uPVC entrance doors, a composite door is low-maintenance and won't warp, rot or need painting. In terms of security, a composite door boasts an impressive Ultion cylinder lock.
Composite door or uPVC door, which is right for you?
Both choices of entrance door are not without their merits, and you certainly won't be disappointed with either choice, especially as both options come with a 10-year guarantee!
In addition to our composite doors or our uPVC doors, you may also like to know about the differences between an aluminium entrance door and a composite door. There are too many amazing choices for you to choose from
Dream Installations
Dream Installations provides home improvements such as windows, doors, conservatories & more for homeowners across Norfolk and Suffolk. For more information, you can call us on 01502 585 620 or get in touch with us online.