Do you find that your house loses heat easily? Do you find that your electricity bill has sky-rocketed because you've opted to put the heating on? Or do you perhaps find that regardless of what you do, your house is still cold?
I can hear most of you saying "yes!". But rest assured – here's our simple hacks to help you keep your house warm and cosy.
Check your radiators
Check the spacing around your radiators. Have you placed large pieces of furniture such as a sofa or a dogs' bed in front of them? Or can you barely distinguish between the radiator and the number of wet towels that you've crammed on there to dry?
As much as we don't wish to admit it, we're all sometimes a little bit guilty of doing just that. But did you know that this blocks the heat from circulating the room?
By keeping your radiators and space near the fire clutter-free, this will encourage the heat to circulate more effectively, ultimately keeping the room nice and toasty.
Make some DIY door draught excluders
A simple creative solution to prevent heat from escaping the room is by making a door draught excluder. This would be a great DIY family fun activity to do during lockdown too!
For this, you will need the following items:
* A rectangular piece of material of your choice – this needs to be longer than the width of your door and between 35-40cm wide
* Sewing machine, or if you're doing it the old fashioned way, a needle, and thread
* An old pair of tights
* Stuffing for the inside – we suggest using rice
* Pins
* Iron and ironing board
To make your DIY door draughter excluders, simply:
1. Check and iron your piece of material
2. Fold it in half so that your chosen pattern is on the inside and pin together
3. Stitch up the length of the rectangle, as close to where the two edges meet as possible. Again, please be careful
4. Turn the material inside out with the prettier side of the fabric on the outside, and stitch together one of the ends
5. Cut a leg off your tights and fill it with stuffing. When it's full, tie a knot on the end
6. Insert the stuffed tight into your draught excluder and stitch
7. Voila, your DIY door draught excluder is finished
Layer up with rugs
Having hard floorings such as laminate or vinyl has many benefits but absorbing the heat is not one of them. As aesthetically pleasing and beautiful as these types of flooring are, they're renowned for making our feet cold. And if you're anything like we are, you'll hate having cold feet and hands.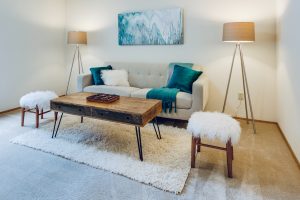 An easy way to give your feet a lovely warm treat – whilst not breaking the bank! – is by laying a thick rug as this will act as insulation between the hard flooring and your feet. There are so many different styles of rugs, but how about opting for a thick white anti-slip rug to go with your colour theme. Sounds lovely, doesn't it?!
However, even if your house doesn't have hard flooring and carpet instead, you could still lay a thick rug and make the rooms even cosier, or perhaps replace your current carpet with an even thicker carpet. There are lots of options available to suit your budget.
Upgrade your windows
Replacing your windows to a newer version of double or even triple glazing is a great way to keep your house warm – whilst also boosting the value of your house too! Our double glazing and triple glazing windows do an excellent job of filtering out any instructive, unwanted noise, and perhaps more importantly, they result in a warmer house and lower financial costs. It's probably the most effective way to keep the warmth in, so if you can hear the wind whistling or there is condensation on them, get in touch and we can let give you some options for making your home warmer for good.
In addition to double glazed windows and triple glazed windows, we also install doors, conservatories, and more, so don't hesitate to get in touch or get a quote today!