As your conservatory gets older, it can become more vulnerable to damages. Leaks are a common and are a noticeable issue to experience.
So, if you're wondering if it's possible to repair a leaking conservatory roof, in short, yes, you can! You can also invest and carry out a conservatory roof replacement which can add long-term value to your property. Carry on reading to find out more.
Is it common for conservatories to leak? 
If you find a leak, do not hesitate to get it fixed and call a specialist out as soon as possible to prevent further damage. Leaks can do a lot more damage than you may think.
If you keep soft furnishings in your conservatory, they risk being ruined from a wet and damp environment. If the leak has been left, it could also start posing a threat to you and your family's health, as black mould can form in the room, making it dangerous.
A leaky conservatory roof will also be allowing heat to escape, making your bills more expensive, especially if your conservatory is open plan and leads into your home. Once your conservatory reaches 20 years old, you need to either replace the roof or completely replace your conservatory.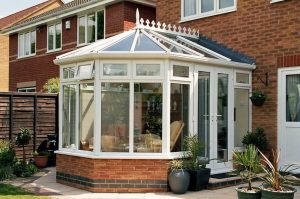 How do you stop a conservatory roof from leaking? 
If you can find where the leak is coming from, you may be able to tell what the issue is. For example, if the water leaks between your home and conservatory, you could have a problem with your roof flashing. Roof flashing helps keep your conservatory watertight, so if you have an issue with it, you may need to have it reinstalled or, in some cases, completely replace it.
If your leak is in the centre of your conservatory roof, it could be due to a slipped or incorrectly fitted roof tile. This can usually be fixed by repositioning the tiles, which is relatively simple.
A cracked glazing unit could also be an issue, which should be easy to spot and can usually be fixed by replacing the glazing. It's also common for conservatory roof leaks to be caused by old or perished seals, which can be resealed to eliminate leaks and create a watertight seal again.
Depending on the extent of the damage, you may need to consider your options. If a repair is extensive, you may need a complete roof replacement or a new conservatory.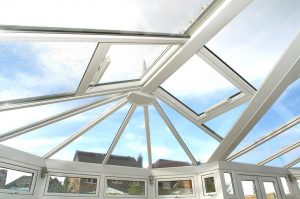 Is a leaking conservatory roof covered by insurance?
When you have your conservatory installed, you should contact your insurer to inform them of the extension to your property. If they have been informed, your conservatory will be covered under your building insurance. However, leaks are often considered general wear and tear, and your insurance may not cover this.
Some insurance companies will only cover sudden damages. If you're unsure whether wear and tear is covered under your building insurance, you should always speak directly to your insurer or refer to your terms and conditions.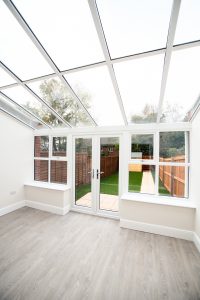 Benefits of a modern conservatory roof replacement 
Replacing your conservatory roof is a cost-effective way to revamp your conservatory without having to replace the entire structure. Unlike the process of installing your conservatory, the roof replacement is relatively quick and easy.
Upgrading your roof will provide you with much better thermal efficiency, keeping it cool in the summer and warm in the winter. You'll notice your energy bills will decrease in the colder months as you won't be wasting energy. By replacing the roof, you could be adding value to your property.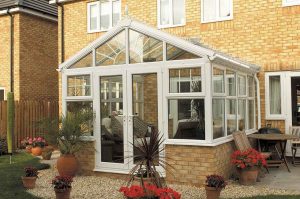 Benefits of a new conservatory
A new conservatory is one of the most popular home improvements on the market. There are many benefits to a conservatory extension but here are just a few:
A conservatory creates additional living space

A great natural light source

It brings a house and garden together

Can increase your property value

New conservatories are highly energy efficient

Planning permission is typically not needed. A quality installer will advise you.

A new conservatory is more cost-effective than moving house
A new conservatory has many benefits. A cost-effective way to add more space is a common reason for its popularity, and it's clear why so many homeowners choose to extend their properties with a conservatory.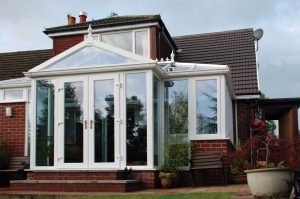 Replacement conservatory roofs in Norfolk and Suffolk 
Our dedicated team can carry out high-quality conservatory roof replacements giving your conservatory a new lease of life. Installed by our experienced team of experts, we can give you every confidence of working with your existing conservatory and give you an all-year-round functional room.
Call us on 01502 585 845 or contact us here for more information.
Related to this post:
French Doors Vs Patio Doors: Which is best for me?
3 Benefits of a Glass Conservatory Roof
Worried About Your Conservatory Being Too Hot in the Summer and Too Cold in the Winter? 3 Tips to Help!